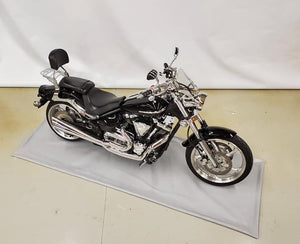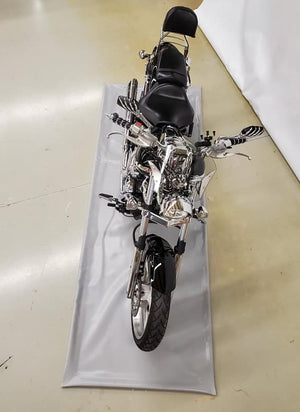 Motorcycle Mat
Keep the mud, dirt and debris out of your garage! Are you worried about tire flat spots or moisture exposure from your garage concrete? Buy your Kentain MotorcycleMat today and prevent these problems before they happen. You spend too much time, money, and effort on your toys to let them degrade over the winter. Let this year be the first year you store your machine the right way. 
Dimensions: 9' x 3'
Features:
Four-sided raised berms for complete containment
One Piece Construction

Easy Installation
Provides Moisture Barrier
Heavy Duty Re-enforced 50 mil PVC
Ultra Durable
Contains Liquids/Prevents Spills
Slip Resistant
Prevents Concrete Deterioration
Hides Cracks & Stains
Prevents Flat Spots in Tires
Protects Against: Oil, Anti-freeze, Battery Acid, Salt, Slush and more.
Do you live in the Kitchener/Waterloo area?  email  us to arrange for the purchase and pick up of one of our Motorcycle Mats
All sales are processed in Canadian funds.